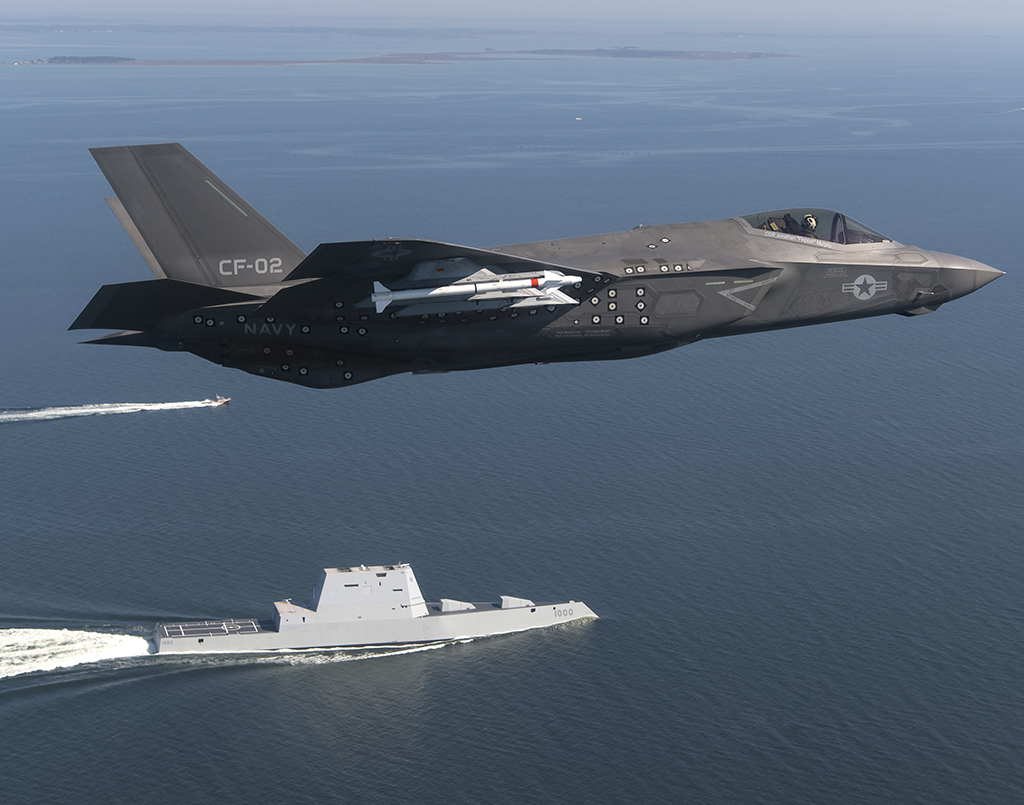 F-35 Lightning II Carrier Variant (CV) piloted by U.S. Marine Corps Maj. Robert "Champ" Guyette II, a test pilot from the F-35 Pax River Integrated Test Force (ITF) assigned to the Salty Dogs of Air Test and Evaluation Squadron (VX) 23, flies over the stealth guided-missile destroyer USS Zumwalt (DDG 1000) as the ship transits the Chesapeake Bay on Oct. 17, 2016. USS Zumwalt, the Navy's newest and most technologically advanced surface ship, joined the fleet Oct. 15. The F-35C Lightning II — a next generation single-seat, single-engine strike fighter that incorporates stealth technologies, defensive avionics, internal and external weapons, and a revolutionary sensor fusion capability — is designed as the U.S. Navy's first-day-of-war, survivable strike fighter. The U.S. Navy anticipates declaring the F-35C combat-ready in 2018. (U.S. Navy photo by Andy Wolfe/Released)
David Cenciotti on The Aviationist website has posted up a great article on various US Navy aircraft flying over the USS Zumwalt in Chesapeake.
USS Zumwalt is the U.S. Navy's newest and most technologically advanced surface ship and it was commissioned in Baltimore, Maryland, on Oct. 15. Zumwalt is the first ship of a new class of stealthy multi-mission destroyers that features an advanced power system capable to generate 78 megawatts of power and has the ability to launch TLAMs (Tomahawk Land Attack Missiles) and Evolved Sea Sparrow Missiles, as well as a wide array of other anti-ship and anti-submarine weaponry.
You can read David's story at
https://theaviationist.com/2016/10/19/take-a-look-at-these-fantastic-photographs-of-u-s-navy-aircraft-flying-over-uss-zumwalt-advanced-multi-mission-guided-missile-destroyer/