The link to the video below is a must watch for Milcom monitors worldwide. This CBS 60 Minutes segement will bring into sharp focus current events that we have been monitoring over the last couple of years including recent USSTRATCOM exercises over the Arctic region by US DoD aircraft assets.
Let's hope cooler heads will prevail especially in and around Estonia and Latvia, an area to watch very closely in the near term IMHO.
The New Cold War
http://www.cbsnews.com/videos/the-new-cold-war-2/
Recent Related Stories
Strategic Bomber Force Showcases Allied Interoperability During POLAR ROAR
OFFUTT AIR FORCE BASE, Neb. - Five bombers from all three of the United States' strategic bomber bases completed a mission Monday designed to test the force's long-range, global-strike capability while training and integrating with key allies and partners.
The mission, POLAR ROAR, involved three nonstop, simultaneous flights of three B-52 Stratofortresses and two B-2 Spirits.
One B-52 from the 2nd Bomb Wing flew from Nellis AFB, Nev., to the North and Baltic Seas and through the English Channel, conducting intercept training with Danish F-16s supporting NATO's continuous air policing mission, JAS-39 Gripens from Sweden and other allies and partner nations. The bomber then conducted intercept training with North American Aerospace Defense Command (NORAD)-assigned Royal Canadian Air Force CF-18 fighter aircraft before returning home to Barksdale AFB, La.
Two B-52s from the 5th Bomb Wing, Minot AFB, N.D., flew over the North Pole and mainland Alaska, where they conducted intercept training with NORAD-assigned U.S. F-22s and an inert weapons drop at the Joint Pacific Alaska Range Complex (JPARC).
Simultaneously, two B-2s from the 509th Bomb Wing, Whiteman AFB, Mo., flew over the Pacific Ocean to Alaska's Aleutian Islands, where they practiced intercepts with NORAD-assigned U.S. F-15s and conducted an inert weapons drop at the JPARC.
The POLAR ROAR mission included training in polar navigation and weapons operations, as well as integration with NORAD and NATO allies and partners. It was designed to ensure crews maintain the readiness and proficiency necessary to provide an always-ready global strike capability, It also tested the bomber force's ability to support three synchronized flight paths encompassing more than 55,500 miles.
"POLAR ROAR was specifically designed and closely coordinated with our allies to ensure we are integrating our bomber capabilities with their military assets to the maximum extent, strengthening and improving our ability to work with our allies and partners toward mutual goals," said U.S. Navy Adm. Cecil D. Haney, U.S. Strategic Command commander. "The unique, real-time training with NORAD and NATO allies and partners that was afforded by POLAR ROAR enables us to build enduring relationships necessary to confront the broad range of global challenges."
U.S. Strategic Command routinely conducts strategic bomber operations that provide valuable opportunities for bomber crews to integrate and train with allies and partners and other global combatant commands in a variety of missions.
Most recently, B-52s deployed to RAF Fairford, U.K., in June, to support Exercises BALTOPS and SABER STRIKE.
USSTRATCOM bombers have also conducted intercept training with UK Royal Air Force and Royal Netherlands Air Force aircraft and NORAD-assigned Canadian fighters during POLAR GROWL in April 2015, supported the largest NATO exercise in the last 20 years in TRIDENT JUNCTURE in November 2015, and deployed to Moron Air Base, Spain, for Exercises COLD RESPONSE 16 and SERPENTEX in February through March 2016.
Strategic bombers have also participated alongside NORAD-assigned forces in major training exercises, most recently in October 2015, when B-52s flew to Goose Bay, Canada, during exercise VIGILANT SHIELD.
One of nine DoD unified combatant commands, USSTRATCOM has global strategic missions, assigned through the Unified Command Plan, which include strategic deterrence; space operations; cyberspace operations; joint electronic warfare; global strike; missile defense; intelligence, surveillance and reconnaissance; combating weapons of mass destruction; and analysis and targeting.
P
olar Growl strengthens allied interoperability, bomber navigation skills
OFFUTT AIR FORCE BASE, Neb. -- Two pairs of B-52 Stratofortresses completed simultaneous, round-trip sorties from their U.S. bases of Minot Air Force Base, North Dakota, and Barksdale Air Force Base, Louisiana, to the Arctic and North Sea regions, respectively, April 3.

The training mission, coined Polar Growl, allowed the aircrews to hone their navigation skills and enhance their ability to work with allied partners, while demonstrating U.S. Strategic Command capacity.

"These flights, demonstrating the credible and flexible ability of our strategic bomber force in internationally-recognized flight information regions, are the culmination of months of planning and coordination," said Adm. Cecil D. Haney, the STRATCOM commander. "They are one of many ways we demonstrate interoperability, compliance with national and international protocols, and due regard for the safety of all aircraft sharing the air space."

Each of the two legs of Polar Growl provided unique training opportunities, all while testing the bomber force's command and control apparatus' ability to support two synchronized flight paths. The bomber crews flying the North Sea route participated in dissimilar air intercept maneuvers with fighter aircraft flown by the Royal Canadian air force, Royal Air Force and Royal Netherlands air force. In addition to conducting dissimilar air intercept maneuvers with Royal Canadian air force fighters, bomber crews on the Arctic leg of the mission transited around the North Pole, providing the crews invaluable training in polar navigation.

"Today's dynamic global security environment is an interdependent world where international partnerships are foundational," Haney said. "Exercises and operations such as these bomber flights enable and enhance relationships with our allies and partners, and allow others to understand what capabilities U.S. Strategic Command brings to the equation."

The U.S. regularly conducts combined training and theater security cooperation engagements with coalition partners. The combined training provided in Polar Growl follows the participation of B-52s in NATO exercise Noble Justification in October 2014, and the deployment of B-52s and B-2 Spirits to RAF Fairford, United Kingdom, in June 2014.

"The long-range nature of the mission, coupled with the opportunity to interact in real-time with allied aircraft was an invaluable experience that simply can't be replicated out of the cockpit," said Maj. Nathan Barnhart, a 343rd Bomb Squadron instructor radar navigator. "Training like this ensures we are ready to respond to any and all mission directives across the globe."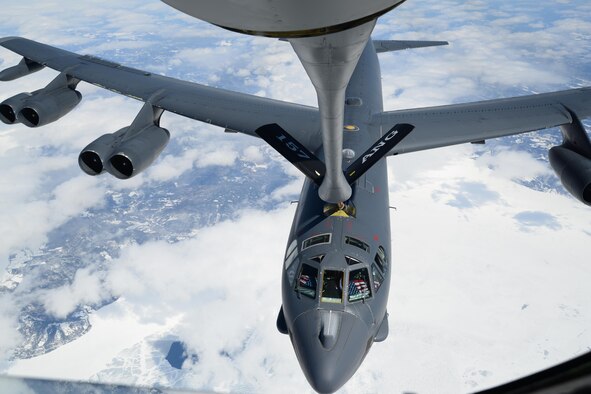 A B-52H Stratofortress from Barksdale Air Force Base, La., receives fuel from a New Hampshire Air National Guard KC-135R Stratotanker April 2, 2015, near the eastern coast of Canada. The B-52H was returning home after supporting Polar Growl, a U.S. Strategic Command-directed mission to the Arctic and North Sea regions. The mission was to provide a flexible and visible signal that highlights the U.S. ability to deter strategic attacks and respond to any potential future crisis or challenge. (Air National Guard photo/Airman Ashlyn J. Correia)