Postscript to my post yesterday from The New York Times headline this morning:-
U.S. Strikes ISIS Camp in Libya, Killing More Than 30
WASHINGTON — American warplanes struck an Islamic State camp in
Libya
early Friday, targeting a senior Tunisian operative linked to two major terrorist attacks in Tunisia last year. The operative, Noureddine Chouchane, was most likely killed in the strike, according to the Pentagon.
The airstrikes, on a camp outside Sabratha, about 50 miles west of Tripoli, killed at least 30 Islamic State recruits at the site, many of whom were believed to be from Tunisia, according to a Western official, who spoke on the condition of anonymity to discuss military operations. Complete story online at
http://www.nytimes.com/2016/02/20/world/middleeast/us-airstrike-isis-libya.html
Written yesterday 18 February at 3:45 p.m.) Interesting! U.S. registered aircraft has been spotted apparently leaving Libyan airspace earlier today (18 February) and yesterday (17 February). Dear MMP reader check out the background article below and I will let you draw your own conclusions.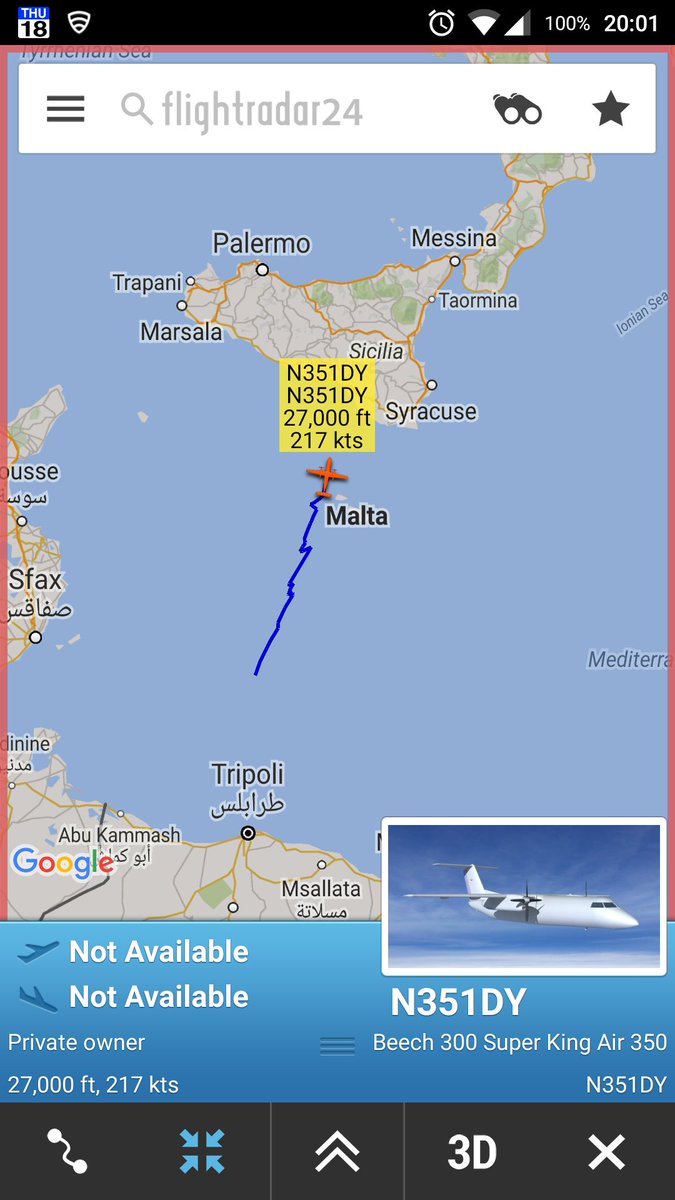 Thanks to @CivMilAir for this heads up.
Background from
The Aviationist
blog:
Here's where a U.S. spyplane sought terrorists behind Bardo museum attack in Tunisia
From Mar. 21 to 26, a U.S. Beechcraft King Air 350ER has conducted reconnaissance missions over the western Tunisia regions where jidahist terrorists behind the Bardo Museum attack have been hiding.
The news, exposed by the Corriere della Sera newspaper, was unveiled by Tunisian bloggers who noticed the civil-registered plane on Flightradar24.com: in fact, although it was probably involved in an intelligence gathering mission, the King Air "N351DY" did not turn off its ADS-B transponder and could be clearly tracked on the popular website (as already happened to other U.S. spyplanes over Afghanistan…) as it circled over the Jebel Chambi mountain between 22,500 and 24,500 feet.
Noteworthy, the aircraft operated by Pantelleria airport, a little Italian island off Tunisia: most probably, deploying the plane to a Tunisian airport was not safe, Sigonella airbase, in Sicily, from where U.S. Global Hawk and Predator and Reaper drone operate, was too far and Pantelleria was chosen as the closest base for the clandestine task.
The N351DY is registered to Aircraft Logistics Group LLC, based at Oklahoma City, known to have cooperated with Pentagon in the past.
You can read the rest of this article at
http://theaviationist.com/tag/n351dy/
And then there is yesterday's flight seen leaving that garden spot in the world - Libya. Wonder how the shopping is down around Tripoli?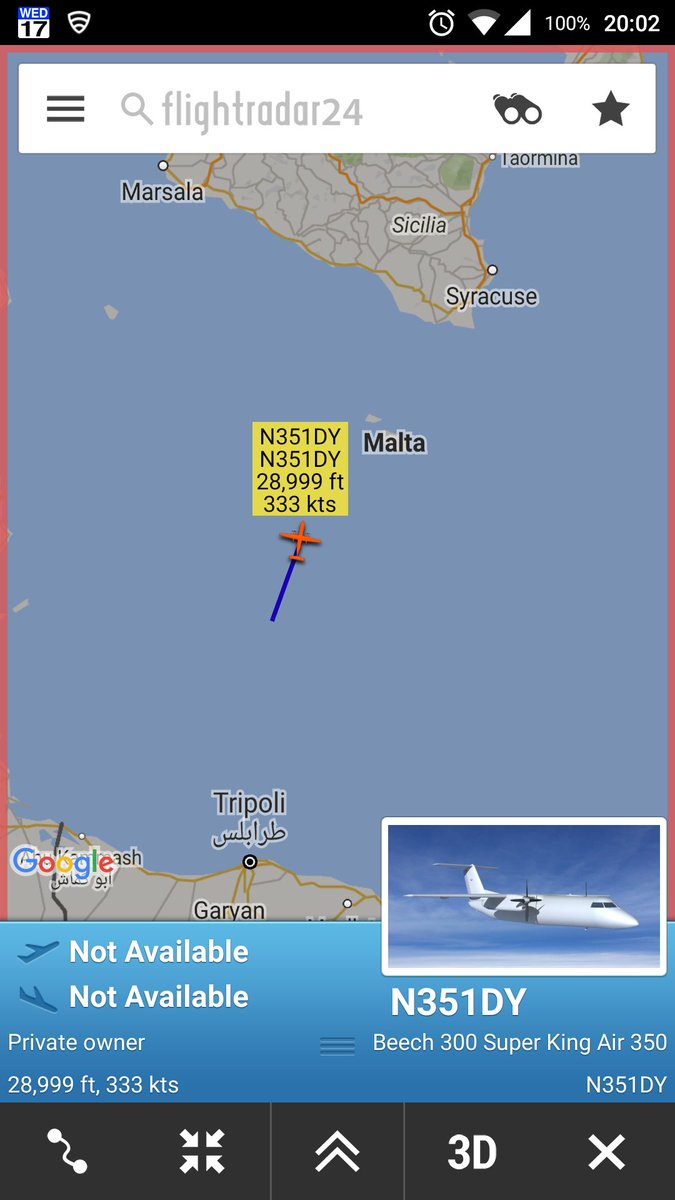 Again kudos to @CivMilAir for both intercepts.