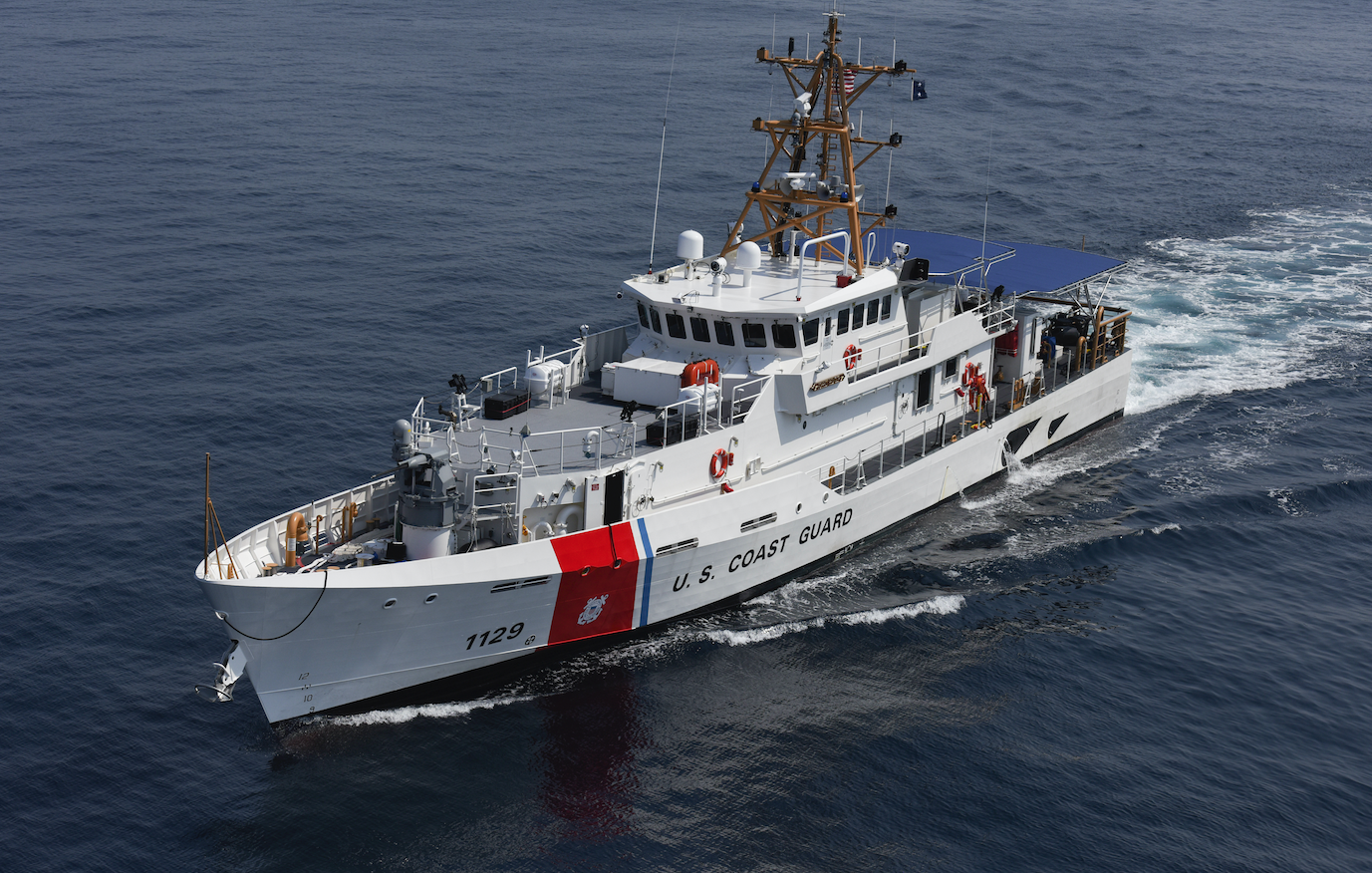 The Coast Guard's fast response cutter Forrest Rednour (WPC-1129) arrived Saturday at its new California home, marking the first of four of the multi-mission cutters to be homeported at Coast Guard Base Los Angeles-Long Beach, Calif.
"We are excited and honored to bring the Forrest Rednour to her new homeport in San Pedro," Lt. Graham Sherman, Forrest Rednour's commanding officer, said in an 11th Coast Guard District news release. "We are absolutely humbled to bring this cutter to life and the Coast Guard could not have selected a better crew to honor Forrest Rednour. This crew will do a phenomenal job of serving the people of California by keeping the coasts, harbors and shipping channels safe and secure."
The 154-foot Forrest Rednour will be commissioned into the service in the fall. It's latest in the Sentinel-class of fast response cutters that are replacing the aging, 110-foot, Island-class patrol boats as part of the Coast Guard's fleet modernization initiative.
The Coast Guard plans to homeport three more fast response cutters at the base, located on Terminal Island in San Pedro, and each will be commissioned into service by next summer. The cutters will operate throughout the 11th Coast Guard District, which covers California and the international waters off Mexico and Central America.
"This ship and the three other Fast Response Cutters bound for California will help strengthen our security and emergency response capabilities in the Pacific Southwest," Rear Adm. Peter Gautier, who commands the 11th Coast Guard District. "Working with our partner agencies, we will continue to protect our global supply chain, disrupt the transnational criminal organizations that smuggle drugs and traffic humans into our nation, and keep our waterways safe and secure."
Each FRC, with a crew of 24, can operate at a range of 2,500 miles and can conduct patrols of up to five days, according to the Coast Guard. The cutters, which top speed of 28 knots, have advanced command, control, communications, computers, intelligence, surveillance and reconnaissance equipment, improved habitability for crews and can deploy a response force for over-the-horizon missions. Its top speed of 28 knots enables the cutter to operate with other agencies as well as the Coast Guard's national security cutters.
Each new cutter is named after a Coast Guard enlisted heroes. Rednour, a second-class petty officer, was serving on the USCGC Escanaba (WPG-77) in the north Atlantic on the night of Feb. 3, 1943, when the German submarine U-223 attacked a U.S. supply convoy, including the torpedoed chartered troop-transport ship Dorchester. The Cutler, Ill.-born Rednour joined in rescue efforts over four hours and is credited with helping rescue 145 people.
According to the Navy and Marine Corps Medal he received
for "heroic conduct" that day: "Despite possible enemy submarine action, Rednour risked his life in the black and icy waters to aid in the rescue of unconscious and helpless survivors. Realizing the danger of being crushed between the rafts and the ship's side or of being struck by a propeller blade if the engines backed, he swam in under the counter of the constantly maneuvering Escanaba and prevented many floating survivors from being caught in the suction of the screws, in one instance retrieving a loading raft. Rednour's gallant and voluntary action in subjecting himself to pounding seas and bitter cold for nearly four hours contributed to the rescue of 145 persons and his courageous disregard for his own personal safety in a situation of grave peril was in keeping with the highest traditions of the United States Naval Service."